UJALA Scheme
UJALA initiative is the world's largest zero-subsidy domestic lighting programme with more than 36.78 crore LEDs distributed across the country.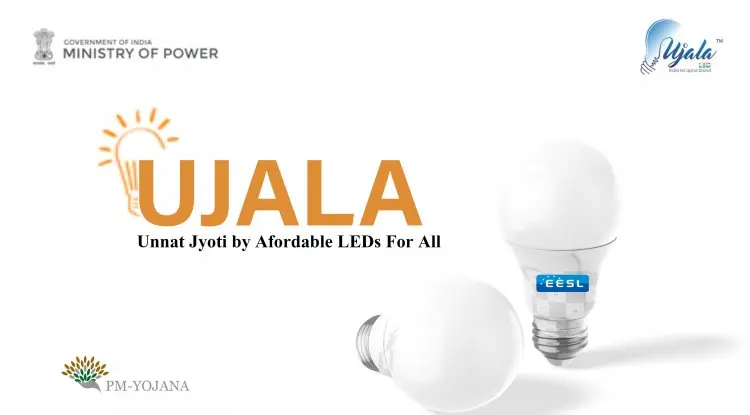 UJALA Scheme
UJALA Scheme
UJALA initiative is the world's largest zero-subsidy domestic lighting programme with more than 36.78 crore LEDs distributed across the country.
UJALA Scheme Launch Date: May 1, 2015
UJALA YOJANA
Introduction
In May 2015, the Indian government introduced the UJALA (Unnat Jyoti by Affordable LEDs for All) scheme, which is also known as the LED-based Domestic Efficient Lighting Programme (DELP), to promote energy efficiency in all households. The UJALA Scheme is a joint project of the Government of India's Public Sector Undertakings, the Union Ministry of Power's Energy Efficiency Services Limited (EESL) and DISCOM.
Through the UJALA scheme, the government aims to save 85 lakh kWh of electricity and 15,000 tonnes of CO2 by replacing 77 crore traditional bulbs & CFLs and 3.5 crore street lights with LEDs. As per the data by the Ministry of Power, in 2020, the government deployed 366 million LEDs; the Energy Efficiency Services Limited, a government-owned energy services firm, installed >10 million LED smart street lights as part of the LED Street Lighting National Programme.
Need for UJALA
According to various research studies (ELCOMA, 2013; NITI Aayog, 2012; PwC, 2011), the contribution of lighting to the overall residential electricity use was estimated to be ~ 18-27%. As per a PwC study, in 2011, Indian households had an estimated one billion lighting points, wherein 46% points included CFLs, while 41% consists of tube lights. In addition, ~13% of the total lighting points comprised incandescent bulbs, with only 0.4% accounting for LED bulbs. Using a uniform annual use of 1,580 hours for each lighting point, the report further estimated that the overall electricity consumption from all these lighting points was ~27% of the total residential electricity consumption.
Although residential LEDs use ~75% less energy and last 25x longer than incandescent lighting, the high cost of LEDs poses a challenge to implement such energy-efficient lighting systems.
To enable this, the government launched the UJALA scheme to make energy-efficient household lighting systems affordable for all. Under the scheme, the cost of the LED bulbs—that were distributed through the state-run EESL—was lowered to Rs. 65 (US$ 0.8) in 2016 from Rs. 310 (US$ 4.22) in 2013.
Moreover, to boost adoption of energy-efficient lighting methods/systems in the country, the government initiated numerous programmes such as DSM-based Efficient Lighting Programme (DELP) (2014) and the Bachat Lamp Yojana (BLY) to replace traditional bulbs with LED bulbs and reduce costs of LED bulbs to ensure energy-efficient lighting systems in every Indian household.
These government-led programmes also helped in creating awareness about energy-efficient LED bulbs; this bolstered the domestic LED market to expand from <5 million-unit sales per year in 2014 to ~669 million-unit sales in 2018 (as per ELCOMA India Report).
UJALA: Initiatives and Progress
Distributing LED bulbs at a 40% discount off the retail price
The UJALA scheme works on a 'demand aggregation-price crash model', which involves lowering costs by using economies of scale.
In 2015, EESL invited manufacturers to submit open bids for a large-scale LED lamp procurement and covered all upfront costs. The company also approached state governments and electricity production & distribution utilities to sign contracts and establish a value chain for the public distribution of these LED lamps under the UJALA programme. Due to this market aggregation, the retail prices of LED dramatically declined to as low as US$ 0.8 (Rs. 65) in 2016.
Enabling customer purchase lower‐cost LED bulbs
Under the UJALA scheme, the government offers two payment options to purchase LED bulbs. In the first alternative, consumers can choose to pay the whole cost upfront, and in the second choice, consumers can opt for the 'pay as you wish/on-bill financing' programme, wherein the program offered customers with the choice to pay initial cost of US$ 0.15 (Rs. 10) per bulb and the remaining balance was recovered through a monthly electricity bill of US$ 0.15 (Rs. 10) per month. The programme allowed customers with an opportunity to buy up to eight LED bulbs on a single electricity bill.
Distributing LED bulbs in rural areas under the GRAM UJALA scheme
In March 2021, the government introduced GRAM UJALA scheme for rural households, under which it aims to distribute LED bulbs at an affordable price of Rs. 10 per bulb.

Under this scheme, rural customers will be given 7-watt and 12-watt LED bulbs, with a three-year warranty, if they submit working incandescent bulbs.
These bulbs will be distributed by Convergence Energy Services Ltd. (CESL), a subsidiary of the state-run Energy Efficiency Services Ltd. (EESL).
In the phase-I of GRAM UJALA scheme, the government plans to distribute 1 crore 50 lakh LED bulbs to achieve substantial energy savings of 2025 million kWh/year and CO2 reductions of 1.65 million tonnes CO2/year—to match India's climate change action.
Within two days of its launch, the scheme had reached 6,150 people in Arrah, Bihar.
Key developments
As per the National UJALA data, UJALA scheme has resulted in annual cost savings of ~Rs. 19,000 crore (US$ 2.59 billion) over six years, translating to energy savings of ~47 billion kWh (kilowatt-hour) in 2021.
To support public-private participation in climate change mitigation under the GRAM UJALA scheme, CESL invited bidders to participate in a revenue-sharing co-investment programme to share costs and benefits.

As part of this initiative, in April 2021, Syska LED won a contract to supply 10 million LED bulbs to CESL.

In March 2021, EESL announced that it would rope in private companies to boost sales of its various goods & services and accelerate adoption of energy-efficient lighting systems.

In line with this, the organisation plans to appoint Corporate Sales Agencies, Direct Sales Agencies, Dealers & Retailers and other Demand Aggregators, Energy Service Companies (ESCOs), etc.
The Road Ahead…
The UJALA scheme fuelled a market transformation in the field of energy efficiency. By enabling the switch from costly incandescent bulbs to LEDs, the scheme has helped citizens save money on their electricity bills (a 15% reduction in average household electricity bills), while also providing better lighting in their homes. Moreover, the money saved contributes towards a family's discretionary income and long-term investments and thereby, enhances their quality of life and creates wealth in their communities. The scheme also expanded the domestic LED market—beyond the UJALA programme's goal of 700 million LED units—which sold >1.15 billion LEDs (as of 2020).
In addition, the government is actively introducing initiatives to move further on the path to transform illumination and energy efficiency in the country. For example, EESL has an ambitious strategy, under the Street Lighting National Programme (SLNP), it plans to attract investments worth Rs. 8,000 crore (US$ 1.09 billion) by 2024 by covering the entire rural India. The company plans to install and retrofit >30 million LED street lights.
Important facts of UJALA for UPSC Prelims

What is the full form of UJALA?
Unnat Jyoti by Affordable LEDs for All
When was the scheme launched?
1st May 2015
Under which Government Ministry, the scheme was launched?
Ministry of Power
How is the LED bulb described by the Prime Minister?
"Prakash Path" – "way to light"
Who is the implementing agency of this scheme?
Energy Efficiency Services Limited (EESL)